Programme

Tourenvorschläge

Kontakt
How to...
Import of TomTom Spark / Runner devices

(Note: TomTom devices could be imported wireless via an app by using a smartphone or the 'old way' by using a wired interface cable in combination with a PC application. If you want to import your TomTom Spark/Runner activities in TrainingLab Pro I recommend the wired based 'old way'.
This instruction explains the file import via a wired interface.
The whole device communication is handled by the TomTom Sports Connect application.

Preparation: TomTom Sports Connect supports several output formats -> the best format for analyzing purpose is the *.fit file format.

Step 1: Log in to your TomTom web account, open there the preferences dialog and adjust the file export option.
Enable *.fit file format
(it's best to select only one specific file format for export, otherwise - if you choose to use the auto batch import function in theTrainingLab Pro software - activity files could be imported twice, due to the fact that the different file formats often aren't 100% unique)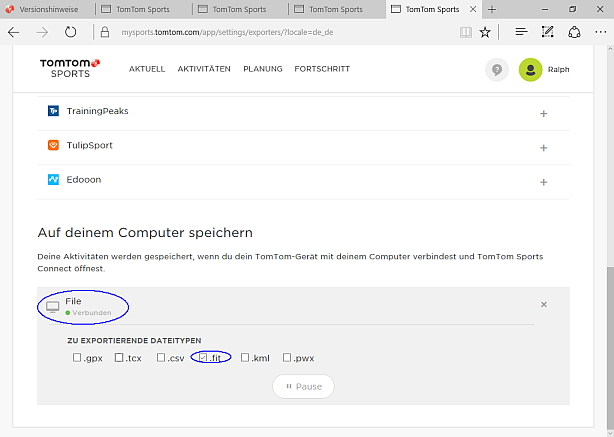 Note: TrainingLab Pro offers two options for this task -> an auto-batch import and a file import by hand
(Both options are explained here)


Option 1 (manually import via TrainingLab file import dialog):

Step 2: Open the TrainingLab Pro import dialog (via Shortcut CTRL+SHIFT+I or by clicking the device import icon for example) and click the activity SEARCH button
-> select the TomTom sports base folder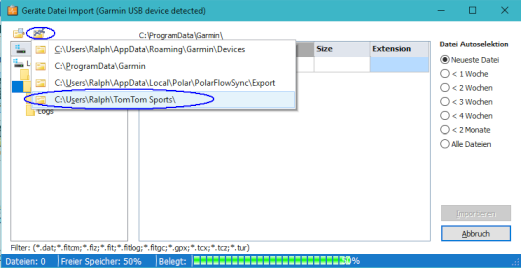 -> select your TomTom watch folder (this is a sub folder in the TomTom sports base folder)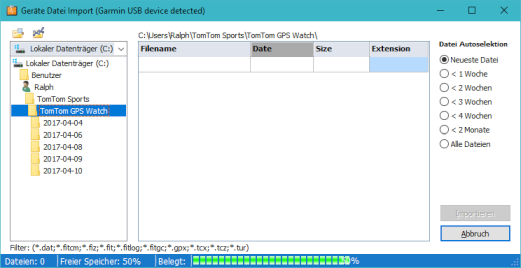 -> select a date folder (this is necessary because the TomTom sports connect application is creating date folders for every synchronization process)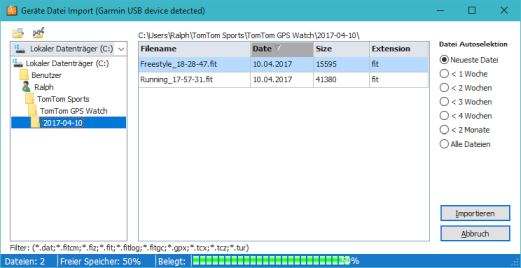 Now import the activties by clicking the Import button...

Voilà...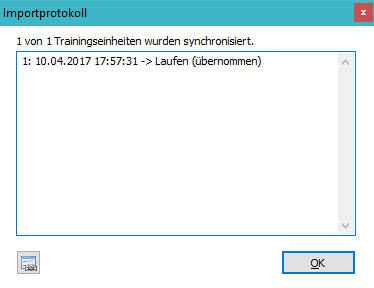 (If you prefer an auto import of your TomTom activity files you could enable the TrainingLab Pro auto batch import function)

Option 2 (Import via TrainingLab Pro Auto-Batch Import):

Step 2: Open the paths adjustment page at the TrainingLab Pro preferences dialog and assign the TomTom export folder
-> TrainingLab is able to detect the export base folder by pressing the option button right to the path edit field...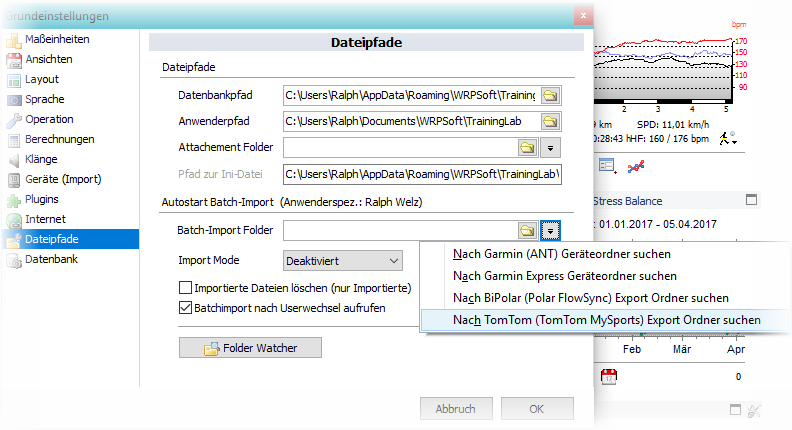 ... but you should assign your specific TomTom watch folder manually by selecting the watch folder at the folder dialog
(this is a sub folder of the TomTom sports base folder)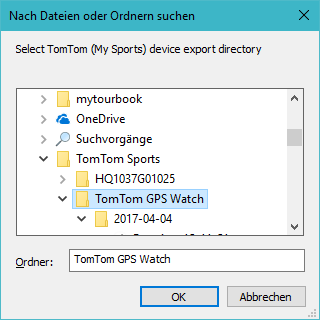 -> enable confirmation or auto import option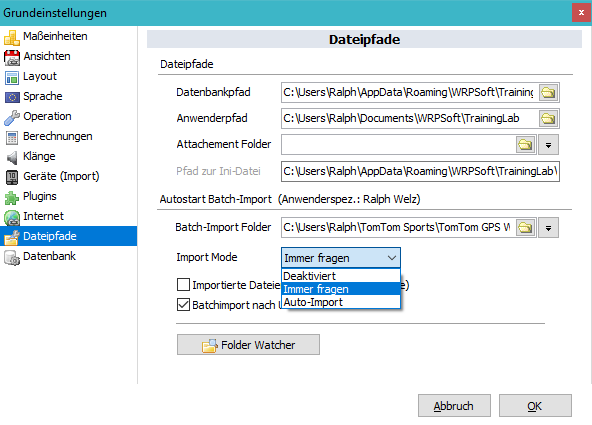 If you enable the auto-import option, Traininglab Pro will auto import newer files stored at the assigned watch export folder directly after the programm start.

Just attach the TomTom Spark/Runner watch to the interface cradle and the TomTom sports connect application will import your TomTom Watch activities and simultaneously export the activities to the TomTom watch folder on your local PC so that TrainingLab Pro is able to import these files.